HONOKAA PEOPLE'S THEATRE
775-0000
(WE HIGHLY RECCOMEND CALLING ON THE DAY OF SHOWING :)

Regular Movie Tickets: $6 Adults, $4 Senior Citizens 65 and older, $3 Children ages 12 and under
THE LISTINGS IN THE CALENDAR BELOW ARE BEST ESTIMATES, IF "TBA" PRECEDES THE TITLE, IT IS NOT YET CONFIRMED. WE REALIZE THERE ARE A FEW GLITCHES WITH THE CALENDAR (LINKS TO EVENTS NOT YET WORKING), PLEASE BEAR WITH US AS WE IMPROVE... :)
MAY 25, 26 & 28  

MOVIE:  THE BOSS BABY
MAY 25, 26 & 28  

MOVIE:  LIFE  
MAY 27   CONCERT:

  MARIA MULDAUR & BAND
JUNE 15    MOVIE:  

ALOHA FROM LAVALAND
JUNE 18    ONE MAN THEATER 

  THE TRUMP CARD
JUNE 23     STAND UP COMEDY

  AUGIE T
JULY 6 & 8    WAIMEA  COMMUNITY  THEATRE:

 BURLESQUE
AUGUST 11 & 12   WAIMEA COMMUNITY THEATRE:

  PIPPIN
DreamWorks Animation and the director of Madagascar invite you to meet a most unusual baby. He wears a suit, speaks with the voice and wit of Alec Baldwin, and stars in the animated comedy, DreamWorks' The Boss Baby. The Boss Baby is a hilariously universal story about how a new baby's arrival impacts a family, told from the point of view of a delightfully unreliable narrator, a wildly imaginative 7 year old named Tim. With a sly, heart-filled message about the importance of family, DreamWorks' The Boss Baby is an authentic and broadly appealing original comedy for all ages.
Rotten Tomatoes Tomatometer Score:  53%
Life tells the story of the six-member crew of the International Space Station that is on the cutting edge of one of the most important discoveries in human history: the first evidence of extraterrestrial life on Mars. As the crew begins to conduct research, their methods end up having unintended consequences and the life form proves more intelligent than anyone ever expected.
Kenneth Turan  L.A. Times:  "It is undeniably satisfying to be in the hands of a persuasive director who, along with editors Frances Parker and Mary Jo Markey, knows how to slowly ratchet up the tension to a properly unnerving level."
James Berardinelli  Reel Views:  "Those who have seen Alien will have a pretty good idea what's coming, at least to a point. Once things reach that point, however, all bets are off."
Rotten Tomatoes Tomatometer Score:  68%
FOR THE FULL WESTERN WEEK LINEUP/UPDATES VISIT THEIR FACEBOOK PAGE
Saloon Girls and Cowboys Got Talent Hopefuls in the paniolo parade. Courtesy photo.
Honoka'a Western Week starts down at the farm and ends up with a rodeo, May 21-29, 2017. The now-legendary Paniolo Parade & Block Party on Friday may be the biggest, but a week filled with activities and events promises something for everyone.
Kick the dust up
Saloon Star Search
MC Valerie Poindexter as the sun goes down at the 2016 Block Party. Courtesy photo.
Always a crowd-pleaser, the Saloon Girls and Cowboys Got Talent Contests give everybody a chance to kick up their heels and release their inner diva onstage at Friday's Block Party. Folks of all ages encouraged to dress up in their Western duds, bring their best three-minute song, dance, story or other performance, and take a shot at cash prizes. No cost to enter; applications available online at www.honokaawesternweek.org, or from Michelle at Big Island Grown, 775-9777.
SCHEDULE OF EVENTS:
Thursday, May 25.
Historic Honoka'a Town Talk Story at Honoka'a Library, 4 p.m., featuring Ross Stephenson, author of "Honokaʻa Town," and Leilani Hino, author/photographer of "Cowboy Kaona," led by HWW Sheriff Larry Ignacio.
Also Thursday, a "Rowdy Rodeo" at The Landing restaurant, 6-8 p.m.
Friday, May 26.
2-11 p.m., Māmāne Street closed.
4 p.m., Paniolo Parade down Māmāne Street, with mounted and marching units, pā'ū riders, gleaming vintage cars and more. Darde "Tita Nui" Gamayo of KAPA Radio will be one of the Parade announcers.
5 p.m., Stick Horse races
6 p.m. Saloon Girls and Cowboys Got Talent Contest
7-10 p.m., Block Party and Dancing in the Street, with great Classic Country and Hot Country Rock by the Big Island's own Bobby Reno Band. Event emceed by Valerie Poindexter.
Plus, a free "Keiki Corral" for the kids from 5-7 p.m., with carnival-style games, silent auction and a Petting Zoo, provided by Ka Hale O Na Keiki Preschool.
Epic Silent Auction and Lucky Number Prizes.
Vendors interested in booth space for the Block Party may contact Dawn Cordeiro at 960-5832, dawn_cordeiro@yahoo.com.
Saturday, May 27.
"Saturday Slack" events of the Hawai'i Saddle Club Scholarship Rodeo.
Saturday night, 7 p.m.
Maria Muldaur and her Red Hot Bluesiana Band at the Honoka'a People's Theatre. Tickets, www.lazarbear.com or 896-4845.
Sunday-Monday, May 28-29.
61st Annual Hawai'i Saddle Club Scholarship Rodeo. For more information, contact hawaiisaddleclub@ymail.com.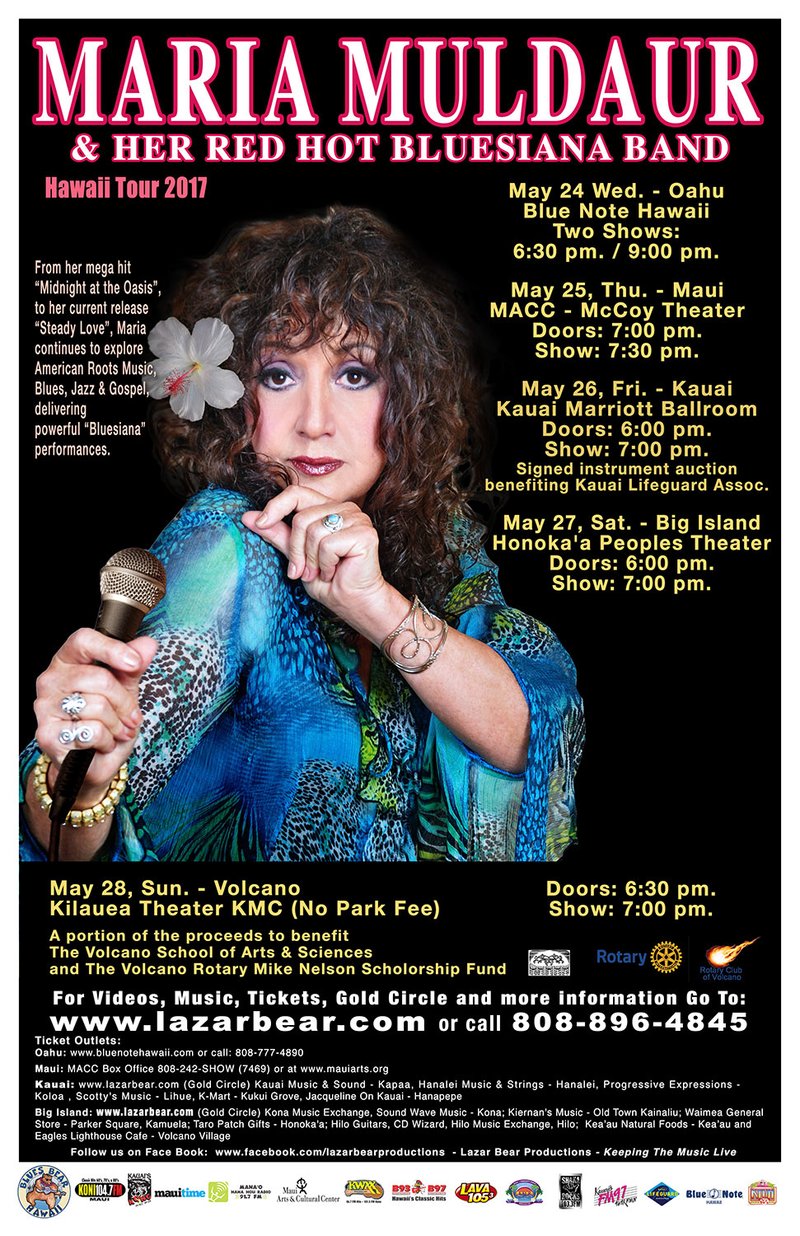 Maria Muldaur and band is presented by LAZARBEAR PRODUCTIONS and will be the Big Island's premeir performance of this Blues legend's Hawaii Tour 2017.  Tickets are available at < Lazarbear.com >.  Her performances will also include the Blue Note in Honolulu and Maui Arts anc Cultural Center and the Kauai Merriott Ballroom.
Lazar Bear is proud to present Maria Muldaur & Her Red Hot Bluesiana Band. From her 1974 Mega Hit "Midnight At The Oasis" to today, Maria is on tour in support of her latest release on Stoney Plain Records "Steady Love", her seventh album for the Edmonton based independent label, and her 39th album release. Self-produced by Muldaur, "Steady Love" is one of the most accessible, joyful and soul satisfying releases in her ever growing catalog of memorable music.
Maria continues to explore American Roots Music, Blues, Jazz, Swamp Funk & Gospel, developing what she calls "Bluesiana Music" - her own brand of New Orleans-flavored Blues, R&B and "Swamp Funk." Steady Love reached #1 on the Living Blues Chart, and garnered her another nomination for Best Traditional Female Blues Artist from the Blues Foundation. One thing for sure, she always delivers powerful & soulful "Bluesiana" performances.
TICKETS AVAILABLE   < Lazarbear.com >  or  808-896-4845
May 27, Saturday - Big Island 
Honoka'a Peoples Theaters
45-3574 Mamane st. Honoka'a, Hi. 96727
Information:  808-896-4845  $40. $55. Gold Circle www.lazarbear.com or call: 808-896-4845
Doors: 6:00 pm    Show: 7:00 pm.
Aloha From Lavaland
Following a volcanic eruption, a Hawaiian community under pressure shows its spirit and resilience.

This 55 minute documentary chronicles the community of Pahoa's reaction to the 2014 Kilauea lava flow. The film premiered at the Hawaii International Film Festival, has won three awards and has played at several film festivals across the country and internationally. 

Aloha From Lavaland explores what it really means to live in such an unpredictable paradise, and what the incident can teach the rest of the world about community, sustainability, harmony, and aloha. It was created by four Big Island-based filmmakers and has a soundtrack featuring Big Island artists. 

Following the film there will be a Q&A with the filmmakers.
What is the lowdown on Donald Trump? Who are the people and what are the forces that shaped him? Playwright Mike Daisey explains our 45th president in this edgy, funny, and disturbing one-man show, 
The Trump Card
. The performance is not a comedy impersonation, rather a raw and intriguing story that gets to the roots of Donald Trump's personality and motivations. Performed throughout the country, this is the first time the show will be staged in Hawaii. John Sucke, long-time actor and Waimea resident, has adapted the script and performs the show. "I learned more about why Trump acts the way he does from this play than from all the news stories I've read and watched. That's why I wanted to bring the show here," says Sucke.  Get ready for 90 minutes of unforgettable political theater.
Not to be missed: American playwright Mike Daisey created this edgy, funny, disburbing one-man show BEFORE the 2016 election and presented it throughout the country to rave reviews. Now, long-time Waimea actor John Sucke is working with a hui of Hawaii Island resisters to adapt the script (shorten it) to perform here on Hawai'i Island. The show is not a comedy imprsonation, rather, a raw and intriguing story that gets to the roots of Donald Trump's personality and motivations. It's Rated R-17 for Rage and Unfiltered Language, and is not family friendly.

RAVE REVIEWS:
Curtain Up: "So funny you'll want to cry."

DC Metro Theatre Arts: "THE TRUMP CARD" soars above the legion of lessser think pieces that this crazy election has spawned. For those of you desperate for an explanation of shy, why?!...THE TRUMP CARD is hysterical, uncomfortable, and soering. In other words, it is the perfect reflection of the 2016 presidential contest."

Hawai'i Island Producer: Matt Binder (989-9693)
Sponsored by: North Hawaii Action Network

Tickets: $10  Tickets will also be sold at the door as space permits. Honokaa People's Theatre June 18 2pm.

The play also will be presented at 7 p.m., Fri. & Sat., June 9-10, 2017 at Aloha Theatre in Kona - sponsored by Matriarchy Rising.
For the last thirty years or so Aunty Aloha Delarosa and family have been guiding keiki thru teen hula Auana and Tahitian at the People's Theatre.  Drop in during class time on regular days (see People's Theatre schedule on web for holidays) to join the family or for more info contact Aloha Delarosa via facebook!
Capoeira is an interactive game of martial arts and acrobatic dance accompanied by live music. Created four centuries ago by African slaves in the country of Brazil, it is believed that capoeira practitioners disguised this dynamic art form as dance and play in order to conceal it's more lethal martial arts and self defense techniques. Students will learn attacks, escapes, acrobatics, strength and conditioning, music instruments, songs in Brazilian-Portuguese, history and self-confidence. Classes are geared for beginners and taught by Mario "Castanho" Hill, an 11-yr. practitioner of capoeira with United Capoeira Association.
Classes: Saturdays - Kids Capoeira (ages 7-12), 11am -12pm; Teen/Adult Capoeira, 12 -1:30pm.
Contact: (916) 752-7275, capoeira_waimea@yahoo.com,
Come and treat yourself to the experience of free-form movement to world-rhythms mixed live at the event by DJ Rajasick.

Ecstatic Dance is a place to dance "from the inside out" and connect with like-minded people of all ages in a safe and non-judgmental space. Given the large amount of people that may show up to the event and the nature of our free-form movement, for liability purposes this dance is open to anyone aged 13 years or older only.

In its most basic definition it is free-form movement/dance inspired by music, allowing our bodies to move freely without judgment or concern for the grace or beauty of the dance. This is the dance you dance as if nobody is watching! It is an inner/outer journey of moving meditation that develops a direct body-spirit connection. Let your body and inner guide be your teachers.

No dance experience or partner is necessary. It's a perfect outlet for those who think they can't dance and for experienced dancers alike. It is free-form, not a structured dance. It is also not a social dance. It is an environment without observers or conversation, where you can feel safe to try new things and really push yourself out of your comfort zone.

Ecstatic Dance Guidelines:
1. Move however you wish.
2. No talking on the dance floor or altar - low whispers off the floor please.
3. No shoes on the dance floor.
4. Water breaks to be taken off the dance floor.

--