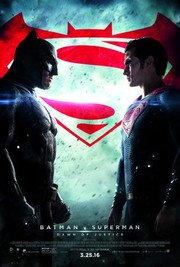 Batman (Ben Affleck) and Superman (Henry Cavill) share the screen in this Warner Bros./DC Entertainment co-production penned by David S. Goyer and Chris Terrio, and directed by Zack Snyder. Amy Adams and Diane Lane return as Lois Lane and Martha Kent, respectively. PG-13
Richard Roeper Chicago Sun-Times: "When it sings, Dawn of Justice is a wonder. When it drags, it still looks good and offers hints of a better scene just around the corner."
Peter Travers Rolling Stone: "Snyder, juiced up by Hans Zimmer's caffeinated score, throws everything at the screen until resistance is futile."
Lou Loumenic New York Post: "Constantly threatening to collapse from self-seriousness, this epic has way too much of everything, including CGI and Oscar winners up the wazoo."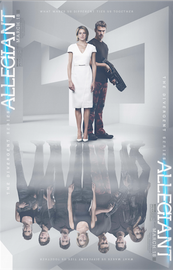 After the earth-shattering revelations of INSURGENT, Tris (Shailene Woodley) must escape with Four (Theo James) and go beyond the wall enclosing Chicago. For the first time ever, they will leave the only city and family they have ever known. Once outside, old discoveries are quickly rendered meaningless with the revelation of shocking new truths. Tris and Four must quickly decide who they can trust as a ruthless battle ignites beyond the walls of Chicago which threatens all of humanity. In order to survive, Tris will be forced to make impossible choices about courage, allegiance, sacrifice and love. PG-13
Mike LaSalle San Francisco Chronicle: "Except in the highly visual or action sequences, Robert Schwentke's direction has a peculiar quality, in which you can almost hear him yelling "Action" and "Cut."
Peter Travers Rolling Stone: "egregiously padded piffle"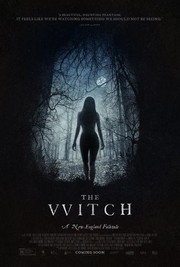 In this exquisitely made and terrifying new horror film, the age-old concepts of witchcraft, black magic and possession are innovatively brought together to tell the intimate and riveting story of one family's frightful unraveling in the New England wilderness circa 1630. New England, 1630. Upon threat of banishment by the church, an English farmer leaves his colonial plantation, relocating his wife and five children to a remote plot of land on the edge of an ominous forest - within which lurks an unknown evil. Strange and unsettling things begin to happen almost immediately - animals turn malevolent, crops fail, and one child disappears as another becomes seemingly possessed by an evil spirit. With suspicion and paranoia mounting, family members accuse teenage daughter Thomasin of witchcraft, charges she adamantly denies. As circumstances grow more treacherous, each family member's faith, loyalty and love become tested in shocking and unforgettable ways. Writer/director Robert Eggers' debut feature, which premiered to great acclaim at the 2015 Sundance Film Festival - winning the Best Director Prize in the U.S. Narrative Competition - painstakingly recreates a God-fearing New England decades before the 1692 Salem witch trials, in which religious convictions tragically turned to mass hysteria. Told through the eyes of the adolescent Thomasin - in a star-making turn by newcomer Anya Taylor-Joy - and supported by mesmerizing camera work and a powerful musical score, THE WITCH is a chilling and groundbreaking new take on the genre. RATED R
David Sims The Atlantic: "
The movie's first-time director, Robert Eggers, blends authenticity with black magic, and the result is giddying.
Scott Tobias NPR: "The Witch immediately joins the pantheon of great horror movies, with the caveat that it's just barely a horror movie at all.
Joe Morganstern Wall Street Journal: "This phenomenal debut feature by Robert Eggers has a singular style and tone, and its horror flows from the deepest wellsprings of human nature."
As always Gary Washburn's amazing High School Jazz Band, fresh off its tour of the islands, will be a highlight of the Honokaa People's Theatre performance schedule. This is the group which gave rise to Gary's recognition with a Grammy Award several years ago. But if any of the previous performances over the years are an indicator, this Jazz Band just keeps getting better and better.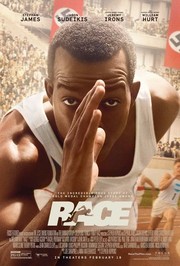 Race is based on the incredible true story of Jesse Owens, the legendary athletic superstar whose quest to become the greatest track and field athlete in history thrusts him onto the world stage of the 1936 Olympics, where he faces off against Adolf Hitler's vision of Aryan supremacy. Race is an enthralling film about courage, determination, tolerance, and friendship, and an inspiring drama about one man's fight to become an Olympic legend.
Peter Travers Rolling Stone: "Director Stephen Hopkins plods when he needs to sprint, but Jesse Owens is a great movie subject. His triumph at the 1936 Olympics left Hitler to suck it up and watch a black man shatter his cuckoo theories of an Aryan master race.
Steven Holden New York Times: ""Race" reminds us that long before television elevated black sports heroes into gods, there were athletes like Jesse Owens who paved the way."
At 7 PM, following the 5 PM film, Mai Lieu, Honokaa resident now transforming CC JONS into a mexican restaurant, will regale the audience with a special program awaiting the 8 PM live streaming of her appearance on the TV hit reality program, SHARK TANK.
Upcoming May 7, Hamakua Youth Foundation's 4th annual Hula Fundraiser, this show is always a highlight of the year, here's a peek from last years SPECTACULAR show, don't miss your chance to support the fantastic efforts for Hamakua Youth and see the best hula kahiko performance of the season.
The culmination concert of the year for the talented music students of the renowned Honokaa High School music program.
Come and treat yourself to the experience of free-form movement to world-rhythms mixed live at the event by DJ Rajasick.



Ecstatic Dance is a place to dance "from the inside out" and connect with like-minded people of all ages in a safe and non-judgmental space.

Given the large amount of people that may show up to the event and the nature of our free-form movement, for liability purposes this dance is open to anyone aged 13 years or older only.

In its most basic definition it is free-form movement/dance inspired by music, allowing our bodies to move freely without judgment or concern for the grace or beauty of the dance. This is the dance you dance as if nobody is watching! It is an inner/outer journey of moving meditation that develops a direct body-spirit connection. Let your body and inner guide be your teachers.

No dance experience or partner is necessary. It's a perfect outlet for those who think they can't dance and for experienced dancers alike. It is free-form, not a structured dance. It is also not a social dance. It is an environment without observers or conversation, where you can feel safe to try new things and really push yourself out of your comfort zone.

Ecstatic Dance Guidelines:
1. Move however you wish.
2. No talking on the dance floor or altar - low whispers off the floor please.
3. No shoes on the dance floor.
4. Water breaks to be taken off the dance floor.
For the last thirty years or so Aunty Aloha Delarosa and family have been guiding keiki thru teen hula Auana and Tahitian at the People's Theatre. Drop in during class time on regular days (see People's Theatre schedule on web for holidays) to join the family or for more info contact Aloha Delarosa via facebook!
.