---
HONOKAA PEOPLE'S THEATRE

775-0000

(WE HIGHLY RECCOMEND CALLING ON THE DAY OF SHOWING :)

Regular Movie Tickets: $6 Adults, $4 Senior Citizens 65 and older, $3 Children ages 12 and under

UPCOMING CALENDAR
The dates in this calendar are best estimates and subject to change, the events listed below the calendar with descriptions are confirmed, but please check by calling on the day of showing to be sure, mahalo!

Monday

Tuesday

Wednesday

Thursday

Friday

Saturday

Sunday

Mar. 2

CAFE CLOSED

5pm - E Ola Mau I Ka Pono

Mar. 3

CAFE OPEN

3 PM Hula

5pm-Oscar Shorts- Animated

6:30pm-Oscar Shorts- Live Action

Mar. 4

CAFE OPEN

2:30 PM Hula

5pm-Oscar Shorts- Animated

6:30pm-Oscar Shorts-Live Action

Mar. 5

CAFE OPEN

5pm-Oscar Shorts- Animated

6:30pm-Oscar Shorts- Live Action

Mar. 6

CAFE OPEN

FIRST FRIDAY

5pm-Spongebob

8pm-Hawaii Songwriters Fest OPEN MIC

Mar. 7

CAFE OPEN

11am-Capoeira

12am-Capoeira

5pm-Spongebob

7pm-ZEROING IN ON PLASTICS-w/ Capt. Charles Moore and film Plastic Paradise

Mar. 8

CAFE OPEN

1pm: SEED EXCHANGE

5pm-Spongebob

7pm-Oscar Shorts- Animated & Live Action

Mar. 9

CAFE CLOSED

5pm - E Ola Mau I Ka Pono

Mar. 10

CAFE OPEN

3 PM Hula

5pm-Spongebob

7pm-Jupiter Ascending

Mar. 11

CAFE OPEN

2:30 PM Hula

5pm-Spongebob

7pm-Jupiter Ascending

Mar. 12

CAFE OPEN

5pm-Spongebob

7pm-Jupiter Ascending

Mar. 13

CAFE OPEN

5pm-Selma

7:15pm-Olohana ULU Fundraiser BYU BRASS, PETE HERZOG, COLIN JOHN, KALANI SOUZA & DAGAN BERNSTEIN

Mar. 14

CAFE OPEN

11am-Capoeira

12am-Capoeira

5pm-Jupiter Ascending

7:15pm-Selma

Mar. 15

CAFE OPEN

5pm-Jupiter Ascending

7:15pm-Selma

Mar. 16

CAFE CLOSED

5pm - E Ola Mau I Ka Pono

Mar. 17

CAFE OPEN

3 PM Hula

5pm-Selma

7:15pm-Birdman

Mar. 18

CAFE OPEN

2:30 PM Hula

5pm-Selma

7:15pm-Birdman

Mar. 19

CAFE OPEN

5pm-Selma

7:15pm-Birdman

Mar. 20

CAFE OPEN

7pm-MARDI GRAS DRAG SHOW

Mar. 21

CAFE OPEN

11am-Capoeira

12am-Capoeira

5pm-Birdman

7:15pm-Fifty Shades of Grey

Mar. 22

CAFE OPEN

5pm-Birdman

7:15pm-Fifty Shades of Grey

Mar. 23

CAFE CLOSED

5pm - E Ola Mau I Ka Pono

7pm - Salsa & Tango w Angel Prince

Mar. 24

CAFE OPEN

3 PM Hula

5pm-Birdman

7:15pm-Fifty Shades of Grey

Mar. 25

CAFE OPEN

2:30 PM Hula

5pm- Fifty Shades of Grey

7:15pm-

Tango w/Sandor & Parissa

Mar. 26

CAFE OPEN

5pm-Birdman

7:15pm-Fifty Shades of Grey

Mar. 27

CAFE OPEN

5pm-What We do In The Shadows

7pm-Kingsman

Mar. 28

CAFE OPEN

7pm-WCT- Murder Mysteries Magritte & Inspector Hound

Mar. 29

CAFE OPEN

2pm-WCT- Murder Mysteries Magritte & Inspector Hound

5pm-What We do In The Shadows

7pm-Kingsman
Upcoming Movies: Chappie, 2nd Best Exotic Marigold Hotel, Whiplash, Inherent Vice, Wild and More!
UPCOMING EVENTS:
March 6: First Friday w/ Open Mic Fundraiser for Hawaii Songwriters Festival
March 7th: Eco Film - Plastic Paradise & Presentation by Capt. Charles Moore
March 8th: Honokaa Seed Exchange
March 13: Olohana Ulu Fundraiser w/ BYU Brass, Colin John & Pete Herzog
March 20: Mardi Gras Drag Show Fundraiser
March 25: Tango at the People's Theatre w/ Sandor & Parissa
March 28 & 29: Waimea Community Theatre Presents Double Feature Murder Mysteries: Magritte & Real Inspector Hound
April 3: First Friday w/ Nake'u Awai

OSCAR NOMINATED SHORT FILMS - ANIMATED & LIVE ACTION
Animated Shorts - Tuesday, Wednesday, Thursday March 3, 4 & 5 (5pm)
Live Action - Tuesday, Wednesday, Thursday March 3, 4 & 5 (6:30pm)
Both Animated & Live Action - Sunday March 8 (7pm)
Animated (82 min): The Oscar Nominated Short Films 2015: Animated program is chock a block with wonderful animated shorts. For once, every single nominated short is almost undeniably charming, if not outright wonderful. Audiences who live near theaters screening Oscar Nominated Short Films 2015 are in for a treat, but may come away from the theater with mixed impression thanks to a number of mostly unimpressive runners-up, which strive for greatness but fall short for a variety of obvious reasons, but trust us, the good most definitely outweighs the bad.
The shortest of this year's Oscar-nominated animated shorts, "A Single Life," offers a zippy, mordantly funny time-travel journey through a woman's later years. In a similar sense, the other four entries in this solid, inspired roundup all address the unique challenges of life at a particular stage — dealing with the wants and insecurities of childhood in "Me and My Moulton" and "The Dam Keeper," falling in love and starting a family in "Feast," and caring for an elderly parent and coping with grief in "The Bigger Picture." As always, the styles and techniques employed run the visual gamut, from traditional hand-drawn and computer-generated imagery to mixed-media stop-motion.
Live Action (118 Min): The five Oscar-nominated films contending for this year's best live-action short film remind us, like watching the films' tidy narratives in succession, that even brief encounters with strangers can net unexpected points of view, connections and outcomes we never thought possible. Mostly international efforts featuring unknown actors from up-and-coming filmmakers in Switzerland, Ireland, France, China, Israel and Great Britain, the nominees include another star turn from Sally Hawkins, nominated last year for her performanc! e in Blue Jasmine and the leading voice of last year's animated short nominee, Room on the Broom.
Compared to the epic all-American coming-of-age tale that is "Boyhood" — a feat 12 years in the making and three hours in the telling — Oscar's live-action short film nominees have seldom seemed shorter or smaller, and yet, judged on their own terms, this year's offerings demonstrate genuine understanding of the form's potential. Where the best picture category offers its selection of ambitious tapestries, these mini-narratives, which range from 14 to 40 minutes, feel more like quilt squares, intricate in their own right, yet modest and far more self-contained — overall, a quality mix available for consummation on every size of screen imaginable.
Once again, the category represents Oscar's least American batch of nominees to be found outside the foreign-language race, which further heightens the sense of discovery we get while sampling work from that hails from unknown helmers in countries less often represented at the multiplex.
E OLA MAU I KA PONO
Monday & Thursdays (5pm)
Our next class series, Ka Mahi'ai a Ku a Lono, begins on Monday, January 26 at the Honokaa People's Theatre! It will be on Mondays and Thursdays, 5:00-7:00pm and runs for 10 weeks.
This class will focus on agriculture, with chanting, story-telling (Olelo), and some hula. The focus is on sustainability and traditional Hawaiian practices of hunting, farming, and fishing.
$200 for the entire 10-week session; a $100 deposit is requested for pre-registration with the balance due on the first day of class. Contact Lanakila or Vikki Catellacci to register.
CAPOERIA AGUA DE BEBER
Saturdays (11am & 12am)
Capoeira is an interactive game of martial arts and acrobatic dance accompanied by live music. Created four centuries ago by African slaves in the country of Brazil, it is believed that capoeira practitioners disguised this dynamic art form as dance and play in order to conceal it's more lethal martial arts and self defense techniques. Students will learn attacks, escapes, acrobatics, strength and conditioning, music instruments, songs in Brazilian-Portuguese, history and self-confidence. Classes are geared for beginners and taught by Mario "Castanho" Hill, an 11-yr. practitioner of capoeira with United Capoeira Association.
Classes: Saturdays - Kids Capoeira (ages 7-12), 11am -12pm; Teen/Adult Capoeira, 12 -1:30pm.
Contact: (916) 752-7275, capoeira_waimea@yahoo.com, www.facebook.com/ADBWaimea
SPONGEBOB (PG)
Friday, Saturday, Sunday March 6, 7 & 8 (5pm)
Tuesday, Wednesday, Thursday March 10, 11 & 12 (5pm)
Comedy & Animation. 1hr 40min . SpongeBob SquarePants, the world's favorite sea dwelling invertebrate, comes ashore to our world for his most super-heroic adventure yet. When a diabolical pirate above the sea steals the secret Krabby Patty formula, SpongeBob and his nemesis Plankton must team up in order to get it back.
.
Betsy Sharkey
Los Angeles Times

Top Critic

All of the strangely charming cartoony undersea nonsense of SpongeBob that's delighted kids and stoners for year comes to the surface in "The SpongeBob Movie: Sponge Out of Water." Prepare to giggle.
Wesley Morris
Grantland

Top Critic

I never know what I want from commercial animated entertainment, but I do know that I like being able to suspect that -- by the standards of the competition -- its makers might be outlaws and lunatics.

Simon Abrams
Village Voice

Top Critic

Business as usual for the irrepressibly cheerful, pineapple-dwelling sea-creature.

David Edelstein
New York Magazine/Vulture

Top Critic

It's big, loud, choppy, in-your-face, and absolutely, positively glorious.

Rafer Guzman
Newsday

Top Critic

Not the most gripping narrative, but the frenetic pace and nonstop gags will please young fans.
FIRST FRIDAY WITH HAWAII SONGWRITERS OPEN MIC

Friday March 6 (8pm) - FREE!
OPEN MIC NIGHT- Share the stage with fellow creators and win admission to the HAWAII SONGWRITING FESTIVAL happening in June, over $200 value!
KMF PRESENTS: THE HAWAII SONGWRITING FESTIVAL
Hawaii, June 11- 13 at the Hapuna Beach Prince Hotel
KMF's Hawaii Songwriting Festival is a celebration of the art & craft of songwriting, with an emphasis on collaboration, education, and music for film and TV. Songwriters of all levels from all walks of life come together to collaborate and network with each other and music professionals from Hawaii, the mainland, and beyond! Through songwriting workshops, seminars, small group sessions, panels, one-on-one meetings, nightly open mic and more, attendees are invited to connect with, learn from, and be inspired by an experienced staff of professional songwriters, producers, musicians, film and TV music supervisors, production library owners, music publishers, A&R executives, and music business consultants. It is unique from other music conferences because its small size and the relaxed island atmosphere create an intimate experience where amateurs, professionals, and everyone in between can develop meaningful relationships through the one thing that us all: music! ed! btest
Contact Info
Julia Brotman
Kauai Music Festival
808-885-6558
http://www.kauaimusicfestival.com
ZEROING IN ON PLASTICS - ECO FILM & PRESENTATION WITH CAPT. CHARLES MOORE
Saturday March 7th (7pm)
Environmental activist Capt. Charles Moore will present new findings on the mid-ocean plastic debris from his 2014 summer research voyage at 7 p.m. on March 7 at Honokaa People's Theatre. The program will include a special screening of "Plastic Paradise," a documentary that delves into plastic pollution on Midway Island and beyond, followed by talk-story with Rick Anthony, a key figure in the zero waste movement.
For more information, call 987-0558.
HONOKAA SEED EXCHANGE

Sunday March 8 (12:30pm)
Join us at the Spring Honoka'a Seed Exchange & Potluck on Sunday, March 8 from 12:30-4:30pm at the Honoka'a People's Theatre!
Local seed-saver Lyn Howe will give a presentation on seed-saving and answer questions. If can, please bring SEEDS, a potluck dish, and/or a bowl/utensils! There will be seeds from local growers and seed companies as well as catalogs.
Honoka'a Seed Exchange has adopted a NO SOIL policy to prevent spread of pests and disease. All vegetative material will be subject to inspection before entering the exchange.
This event is supported by the Hawai'i Public Seed Initiative, a program of The Kohala Center.
JUPITER ASCENDING (PG-13)
Tuesday, Wednesday, Thursday March 10, 11 & 12 (7pm)
Saturday & Sunday Feb. 14 & 15 (5pm)
Action Adventure, Scifi, Fantasy. 2hr 5min . The Wachowski's (The Matrix) return with a new scifi space opera. From the streets of Chicago to the far-flung galaxies whirling through space, "Jupiter Ascending" tells the story of Jupiter Jones (Mila Kunis), who was born under a night sky, with signs predicting she was destined for great things. Now grown, Jupiter dreams of the stars but wakes up to the cold reality of a job cleaning other people's houses and an endless run of bad breaks. Only when Caine (Channing Tatum), a genetically engineered ex-military hunter, arrives on Earth to track her down does Jupiter begin to glimpse the fate that has been waiting for her all along-her genetic signature marks her as next in line for an extraordinary inheritance that could alter the balance of the cosmos.
Manohla Dargis
New York Times

Top Critic

A big, woozy, spacey fairy tale with a science-fiction exoskeleton and a core of pure mush.

Steven Rea
Philadelphia Inquirer

Top Critic

"Technically, I'm an alien," Mila Kunis voice-overs, by way of introduction to this epically kitschy space opera ..

Kenneth Turan
Los Angeles Times

Top Critic

The universe that the writers-directors have created is so numbingly complex that keeping track of what is going on can cause headaches.
SELMA (PG-13)
Friday March 13 (5pm)
Saturday & Sunday March 14 & 15 (7:15pm)
Tuesday, Wednesday, Thursday March 17, 18 & 19 (5pm)
Drama, Biopic 2hr 7min . SELMA is the story of a movement. The film chronicles the tumultuous three-month period in 1965, when Dr. Martin Luther King, Jr. led a dangerous campaign to secure equal voting rights in the face of violent opposition. The epic march from Selma to Montgomery culminated in President Johnson (Tom Wilkinson) signing the Voting Rights Act of 1965, one of the most significant victories for the civil rights movement. Director Ava DuVernays SELMA tells the real story of how the revered leader and visionary Dr. Martin Luther King Jr. (David Oyelowo) and his brothers and sisters in the movement prompted change that forever altered history.
Kenneth Turan
Los Angeles Times

Top Critic

"Selma" is a necessary film, even an essential one, with more than its share of memorable performances and vivid, compelling sequences.

A.O. Scott
New York Times

Top Critic

I have rarely seen a historical film that felt so populous and full of life, so alert to the tendrils of narrative that spread beyond the frame.

Ann Hornaday
Washington Post

Top Critic

"Selma" invites viewers to heed its story, meditate on its implications and allow those images once again to change our hearts and minds.
Bob Mondello
NPR

Top Critic

DuVernay's most remarkable accomplishment may be that with such passion-inspiring material, she has made such a measured, resolute and levelheaded film.

Joe Morgenstern
Wall Street Journal

Top Critic

At its best, Ava DuVernay's biographical film honors Dr. King's legacy by dramatizing the racist brutality that spurred him and his colleagues to action.
CONCERT FOR ULU
Friday March 13 (7:15pm)
Benefit for the Ulu initiative, empowering communities through food and renewable energy. Featuring Pete Herzog, Colin John, Kalani Souza, Dagan Bernstein and friends, and the BYU Shaka Steel & Brass Ensemble.
BIRDMAN (R) - OSCAR WINNER BEST PICTURE, BEST DIRECTOR, BEST SCREENPLAY
Tuesday, Wednesday, Thursday March 17, 18 & 19 (7:15pm)
Saturday, Sunday, Tuesday & Thursday March 21, 22, 24 & 26 (5pm)
Dark Comedy, Drama 1hr 59min . BIRDMAN or The Unexpected Virtue Of Ignorance is a black comedy that tells the story of an actor (Michael Keaton) - famous for portraying an iconic superhero - as he struggles to mount a Broadway play. In the days leading up to opening night, he battles his ego and attempts to recover his family, his career, and himself.
Betsy Sharkey
Los Angeles Times

Top Critic

The director's surrealist portrait of modern times and the cult of celebrity is brilliant on so many levels that even the occasional downdraft can't keep "Birdman" from soaring.

Manohla Dargis
New York Times

Top Critic

A funny, frenetic, buoyant and rambunctiously showboating entertainment in which Mr. Iñárritu himself rises high and then higher still.

Lou Lumenick
New York Post

Top Critic

Perhaps the most incisive and funniest Hollywood take on Broadway since Mel Brook's original "The Producers."
Ann Hornaday
Washington Post

Top Critic

"Birdman" vividly evokes a time of equal parts possibility and terrifying uncertainty, and makes a persuasive case that, when the ground is shifting beneath your feet, the best thing to do is to take flight.

Mick LaSalle
San Francisco Chronicle

Top Critic

One of the best movies of 2014.
MARDI GRAS "MASKED ILLUSIONS" DRAG SHOW (18 and over please)
BENEFIT SUPPORTING THE HAWAIIAN CULTURAL CENTER OF HAMAKUA!

Friday March 20 (7pm) Tickets $20 presale or $25 at the door
An evening of dazzle and more, don't miss the Travys Dynasty latest production "Masked Illusions" a benefit evening to support the HCCOH!
Hawaiian Cultural Center of Hamakua
Mission: To enrich the lands and people of Hamakua through ancient Hawaiian wisdom.
The Hawaiian Cultural Center of Hamakua will be a multi-cultural, multi-generational community center situated in the heart of Honoka'a on the Island of Hawaii.
It will be a space to come and deepen your connection with Hawaiian culture through community classes in arts, hula, language, history, agriculture, philosophy, and more. The center will host special events, guest
speakers, community service projects, and cultural exchange programs, creating a foundation for future generations. Beyond our community, it will be a a place where visitors can learn about the history and culture of Hawaii in an authentic setting.
The historic Ujiki building features a wide-open space with vintage wooden floors smoothed over ages – perfect for bare hula feet. Here, community members will gather to dance, to learn traditional Hawaiian practices, or simply to talk story with community elders.
We intend to bring new life to this building by creating the Hawaiian Cultural Center of Hamakua to serve the community and visitors from around the world.
50 SHADES OF GREY (R)
Saturday, Sunday, Tuesday & Thursday March 21, 22, 24 & 26 (7:15pm)
Wednesday March 25 (5pm)
Mystery, Suspense, Drama, Action. 1hr 54min . E.L. James' kinky best-seller gets the big screen treatment with this Universal Pictures/Focus Features co-production. The steamy tale details a masochistic relationship between a college student and a businessman, whose desires for extreme intimacy pen from secrets in his past.
Bill Goodykoontz
Arizona Republic

Top Critic

For a movie where people are naked for a large chunk of time and play at bondage and dominance (without ever really seeming all that committed to it), it sure is boring.

Peter Travers
Rolling Stone

Top Critic

I'm shocked - shocked, do you hear me?!? - that the film version of E.L. James' Fifty Shades of Grey is such a dull, decorous affair, about as erotic as an ad for Pottery Barn. Strictly intended for gluttons for punishment-by boredom.

Amy Nicholson
L.A. Weekly

Top Critic

The only thing Dakota Johnson can't pull off is her character's over-dramatic name - she introduces herself as Anastasia Steele like an apology.
.

KINGSMAN (R)

Friday & Sunday March. 27 & 29 (7pm)

Tuesday, Wednesday, Thursday March 31, April 1 & 2 (5pm)
Mystery, Suspense, Drama, Action. 2hr 8min . Based upon the acclaimed comic book and directed by Matthew Vaughn (Kick Ass, X-Men First Class), Kingsman: The Secret Service tells the story of a super-secret spy organization that recruits an unrefined but promising street kid into the agency's ultra-competitive training program just as a global threat emerges from a twisted tech genius.
Peter Travers
Rolling Stone

Top Critic

Caught between straight-up James Bond and the Austin Powers parody version, Kingsman is a high-octane combo of action and comedy that breathes surreal new life into the big-screen spy game where Bond meets Jason Bourne and Jack Bauer.
Betsy Sharkey
Los Angeles Times

Top Critic

If you can forgive the failings for at least some of the two-plus-hour running time, "Kingsman" serves up its share of entertaining froth.
Joe Morgenstern
Wall Street Journal

Top Critic

This absurdist mashup of spy-movie genres-especially those with gentleman spies-points up the frenzied pace of change with a frenzy of its own, then runs low on comic resources in the process.
WHAT WE DO IN THE SHADOWS (R)
Friday & Sunday March. 27 & 29 (5pm)
Tuesday, Wednesday, Thursday March 31, April 1 & 2 (7pm)
Comedy, Dark Humor, Horror 1hr 24min . WHAT WE DO IN THE SHADOWS chronicles the adventures of four vampire roommates trying to get by in a modern world that's not always hospitable to the undead. Clement and Waititi, creators of the HBO hit series "Flight of the Conchords," co-wrote, co-directed, and co-star in this hilarious send-up in which an endearingly unhip quartet of friends reveal to us or, rather, to the documentary crew that's filming them, the details of their daily-make that nightly-routine. Ranging in age from 183 to 8,000, and in appearance from adorably youthful to Nosferatu-crusty, they squabble over household chores, struggle to keep up with the latest trends in technology and fashion, antagonize the local werewolves, cruise clubs for lovely ladies, and deal with the rigors of living on a very, very strict diet. The film also stars Rhys Darby, Jonathan Brugh, Cori Gonzalez-Macuer, Stu Rutherford, and Jackie Van Beek, and was produced by Waititi, Chelsea Winstanley and Emanuel Michael.
Mick LaSalle
San Francisco Chronicle

Top Critic

It's funny because of the absurdity of vampires in this context. And it's funny because the context itself is hackneyed to begin with, even if we've never thought so until now.

Andrew O'Hehir
Salon.com

Top Critic

A surprisingly delicate vampire spoof that's both hilarious and respectful, and that captures all the silliest, scariest and saddest aspects of the bloodsucking tradition in one delicious package.

Nathalie Atkinson
Globe and Mail

Top Critic

Like a Christopher Guest movie with a widow's peak, What We Do in the Shadows depicts a supposed "New Zealand Documentary Board" film gone gruesomely, hilariously awry.

Michael Rechtshaffen
Los Angeles Times

Top Critic

Just when it looked like the vampire genre had been bled dry, along comes the insanely inspired horror-satire "What We Do in the Shadows" to give it fresh bite.
WAIMEA COMMUNITY THEATRE PRESENTS DOUBLE MURDER MYSTERIES:
MAGRITTE & THE REAL INSPECTOR HOUND (LIVE THEATRE)
Saturday March 27 (7pm)
Sunday March 28 (2pm)
Mystery, Suspense, Comedy Waimea Community Theatre and Chorus presents Two One-Act Comedy Murder Mysteries 3/13-3/29 in Waimea and Honokaa!
"AFTER MAGRITTE" and "THE REAL INSPECTOR HOUND"
by Tom Stoppard
'The silliest, funniest murder mysteries ever!'

The opening act is "After Magritte," directed by Rhonda Simon. The cast includes Allie Hall as Thelma, Cyrus Mead as Harris, Mari-Jo Allen as Mother, Kurt Simon as Foot and Holmes will be played by Victor Pangan.

The second act is "The Real Inspector Hound," directed by Felicity Johnson and David Merrin. The cast includes veteran actor John Sucke as Birdboot and Kurt Simon as Moon. Mrs. Drudge will be played by a newcomer to Waimea Community Theatre, Celeste Hilliard. Colin Edsman will play Simon Gascoyne. Tahirih Ajimine will play Felicity, Amy Mills is Cynthia, Bill Cruise plays Magnus. Dan Bal is cast as Hound and Brian Thomas is the Radio Announcer.

For more information visit
waimeacommunitytheatre.org or call 885-5818.
DALAI LAMA AWAKENING - Special Screening with Director Q & A
Tuesday March 31 (7pm)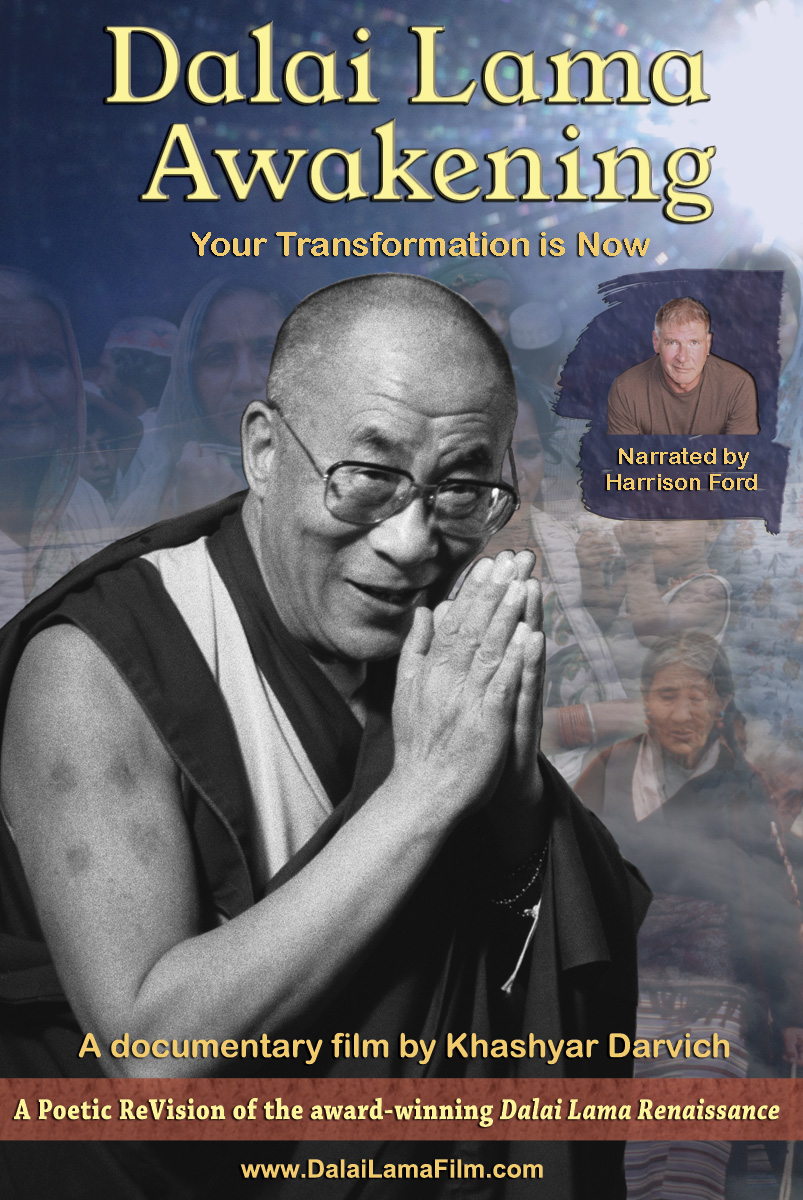 Narrated by Harrison Ford, DALAI LAMA AWAKENING presents the profound and life-changing journey of innovative Western thinkers who travel to India to meet with the Dalai Lama. Born from over 500 hours of video shot over a 15 year period, the film is a Director's Cut of Khashyar Darvich's award-winning DALAI LAMA RENNAISANCE.
Can a film inspire an "awakening" within its filmmaker, as well as with audiences around the world?
Dalai Lama Awakening, which features the Dalai Lama and is narrated by actor Harrison Ford, is Director Khashyar Darvich's newest documentary film– a new "Poetic ReVision" of his award-winning Dalai Lama Renaissance which won 12 awards and screened over 1,000 times around the world.
Dalai Lama Awakening presents the profound and life-changing journey of innovative Western thinkers who travel to India to meet with the Dalai Lama to solve many of the world's problems. The result was an inner transformation of the participants, as well as what audiences report is a personal transformational experience for those who watch the film.
"When I was making Dalai Lama Renaissance," says Director Khashyar Darvich, "Dalai Lama Awakening is the film that my heart and soul wanted to make. I was happy with the international success and impact of Dalai Lama Renaissance, but we had to make some compromises in editing the film in order to meet the requirements of distributers. But at the time, I felt like my cinematic child received invasive surgery and lost some of its true authentic beauty of what it was meant to be. While Dalai Lama Renaissance is like the screenplay of a novel, Dalai Lama Awakening is the novel itself."
"Dalai Lama Awakening is a film without compromise," says Darvich. "It is something pure, fulfilling and complete– a heart-felt expression from the filmmaker's poetic soul. This is the film that inspired me and moved me at the most profound level, so I know that it will deeply impact audiences as well."