THE LISTINGS IN THE CALENDAR BELOW ARE BEST ESTIMATES, IF "TBA" PRECEDES THE TITLE, IT IS NOT YET CONFIRMED. WE REALIZE THERE ARE A FEW GLITCHES WITH THE CALENDAR (LINKS TO EVENTS NOT YET WORKING), PLEASE BEAR WITH US AS WE IMPROVE... :)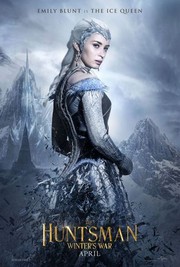 Freya the Ice Queen (Emily Blunt) brings her sister Ravenna (Charlize Theron) back to life, and the powerful evil siblings plan to conquer the Enchanted Forest. Only the Huntsman (Chris Hemsworth) and his secret lover Sara (Jessica Chastain) can stop them in this sequel continuing the inventive twist on the Snow White fable. PG 13
James Berardinelli ReelViews: "By cramming far too much material into 114 minutes, The Huntsman: Winter's War feels rushed and incomplete."
Stephen Rea Philadelphia Inquirer: "Sampling Tolkien, Disney, and Grimm, The Huntsman: Winter's War lays on the pastiche in slabs, but no one is slouching here."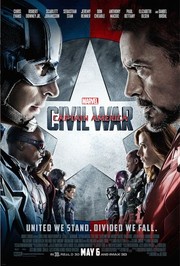 Marvel's "Captain America: Civil War" finds Steve Rogers leading the newly formed team of Avengers in their continued efforts to safeguard humanity. But after another incident involving the Avengers results in collateral damage, political pressure mounts to install a system of accountability, headed by a governing body to oversee and direct the team. The new status quo fractures the Avengers, resulting in two camps-one led by Steve Rogers and his desire for the Avengers to remain free to defend humanity without government interference, and the other following Tony Stark's surprising decision to support government oversight and accountability.
Joe Morganstern Wall Street Journal: "A comic book extravaganza that's enhanced by wit and audacity, not to mention the sort of action that only mountains of money can buy."
Colin Colvert Minneapolis Tribune: "The most impressive superpower on display in Captain America: Civil War... is the whole team's ability to give an escapist comic book movie an intelligent sense of connection to life in the modern world"
Peter Travers Rolling Stone: "Sure, it's too much and way too familiar. But Captain America: Civil War brings the fun, the fierce and the fireworks. Summer, we have liftoff."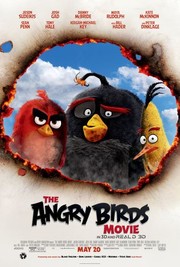 In the 3D animated comedy, The Angry Birds Movie, we'll finally find out why the birds are so angry. The movie takes us to an island populated entirely by happy, flightless birds--or almost entirely. In this paradise, Red (Jason Sudeikis), a bird with a temper problem, speedy Chuck (Josh Gad), and the volatile Bomb (Danny McBride) have always been outsiders. But when the island is visited by mysterious green piggies, it's up to these unlikely outcasts to figure out what the pigs are up to.
Peter Travers Rollling Stone: "Repackaged way past the time when the game was a peak obsession, this animated joyride is still an irresistible invitation to shake your sillies out."
Guy Lodge Variety: "A fast, fizzy and frenetically entertaining extension of the manic gaming franchise that, at its zenith, had children of all ages glued to their smartphone screens."
Since the very beginning, Xavier Rudd's ability to connect with people has been his most powerful gift. The more he has toured the world, the more hearts he has touched and the more of the world he has put back into his music. Several of Rudd's songs incorporate socially conscious themes, such as spirituality, humanity, environmentalism and the rights of Aboriginal peoples. Like Jack Johnson, independent Australian musician Xavier Rudd combines a love of surfing with a love of roots music. Like Ben Harper, he plays Weissenborn lap steel guitars. Utterly unlike both of those musicians, however, he has a unique setup. Rudd is a one-man band who plays surrounded by instruments in a complicated array: typically, he has three didgeridoos placed in front of him on a stand, a guitar on his lap, a stomp box by his habitually bare feet, and an assortment of drums, banjos, harmonicas, bells, and bass guitar near at hand, or near at foot, as the case may be. He takes this setup with him on frequent tours (as well as his surfboards), relying on word of mouth rather than record labels to speak for him. His albums, several of them live recordings, are most often for sale at these sold-out gigs.
MOST RECENTLY ON HIS EUROPEAN TOUR ALL VENUES WERE SOLD OUT. HIS FOUR SHOW HAWAII TOUR IS FIRST HONOKAA PEOPLE'S THEATRE, THEN THE MAUI ARTS AND CULTURAL CENTER, AND THEN THE HAWAII THEATRE IN HONOLULU, AND THEN AN OUTDOOR AMPHITHEATRE ON KAUAI. TICKET PRICES NOW ARE $35 BUT THE PROMOTER TOLD ME 2 DAYS AGO THAT WITHIN 2 WEEKS THE PRICE WOULD BE INCREASED. YOU SHOULD GET TICKETS NOW.
F
or Tickets and information:
www.dovepresents.com
June 22nd - Big Island Honokaa Peoples Theater - Pre sales $35 plus 1.55 service fee
http://www.keckobservatory.org/images/made/images/press_images/Gravitational_lens-full_400_400_c1.jpg
Astronomy Talk: The Remaining 95 Percent: Insights From Gravitational Lensing
Thursday July 28, 2016
07:00 pm - 08:00 pm
Honoka'a People's Theatre
In our standard model of cosmology, only five percent of the mass-energy budget of the Universe is accounted for by particles that have been detected in Earth-based laboratories. The remaining 95 percent, called dark matter and dark energy, has only been detected gravitationally via astronomical observations. Although the abundance of dark matter and dark energy has been measured with great precision, their fundamental nature remains mysterious. In this talk, UCLA astronomer Tommaso Treu will briefly review the history of the discovery of dark matter and dark energy and describe how we can gain new insights by studying the trajectories of photons as they travel across the universe, a phenomenon known as strong gravitational lensing.
INFORMATION ABOUT THIS CONCERT IS AT THE FOLLOWING LINK:
https://www.facebook.com/David-Crosby-Hawaiian-Island-Tour-Oahu-Big-Island-Maui-Kauai-518583214996740/timeline
For the last thirty years or so Aunty Aloha Delarosa and family have been guiding keiki thru teen hula Auana and Tahitian at the People's Theatre. Drop in during class time on regular days (see People's Theatre schedule on web for holidays) to join the family or for more info contact Aloha Delarosa via facebook!